BABY AND CHILD FIRST AID COURSE
Learn how to save a little life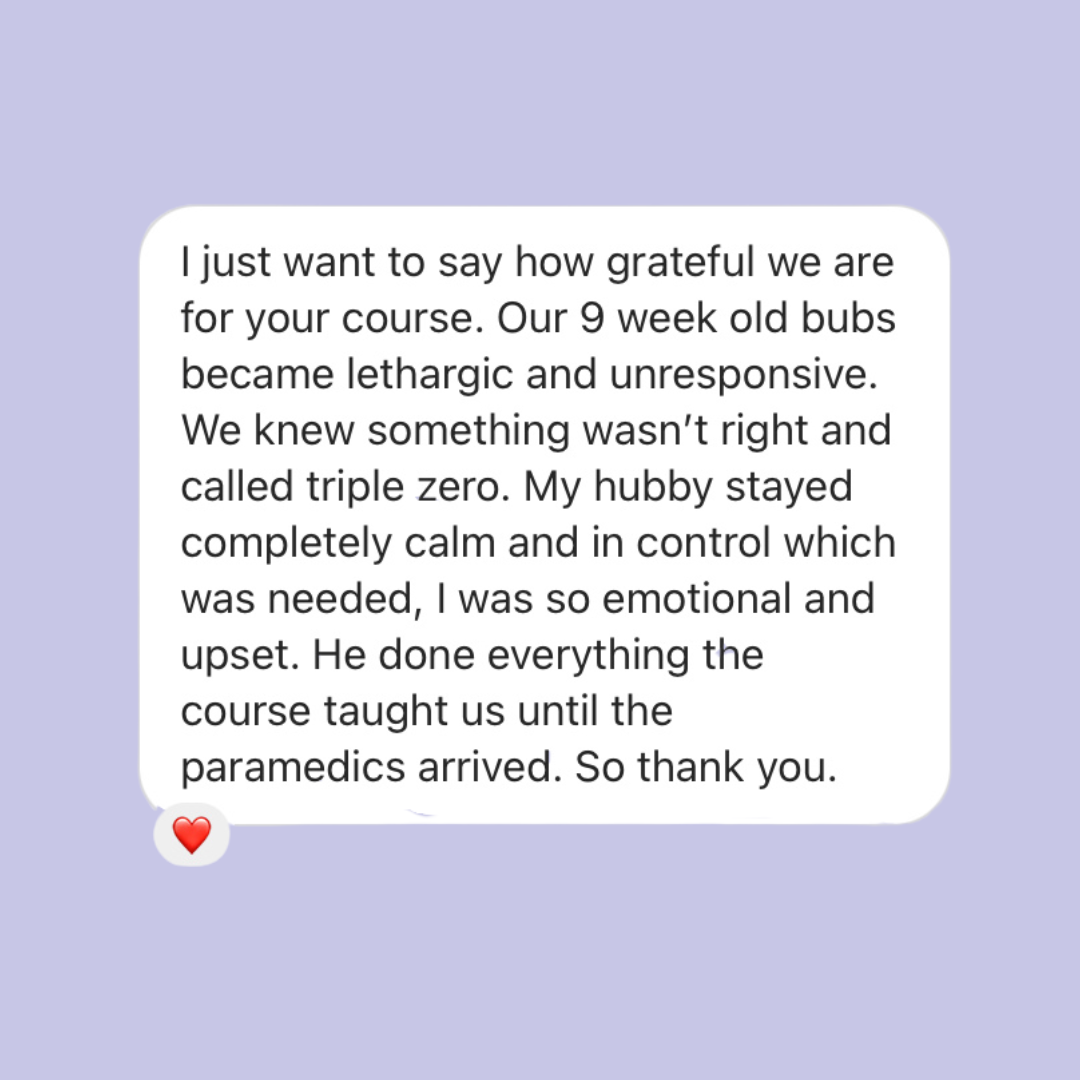 building instinct to fall back on
From learning what to do after a head injury to administering infant and child CPR, our baby first aid course can give you the knowledge you need to save a life.
are you ready to learn how to save a little life?
Designed by paramedics specifically for parents to render first aid confidently to their little ones

Hands-on practice with a manikin allows you to practice skills with your educator and ask questions as you learn
COURSE TOPICS
In a first aid emergency with our little ones, knowing what to do can be the difference between life and death.
In this course, we will teach you the red flags to look for, when and how to escalate and how to perform life saving first aid while you wait for the ambulance to arrive. You will learn:
Identifying critically unwell child 
Healthcare pathways 
Responding to an emergency (DRSABCD)
Infant and Child CPR 
Recovery Position
Practising skills on Infant and Child in multiple scenarios 
Common choking risks
Understanding and managing gagging
Mild airway obstruction / Aspiration
Severe airway obstruction 
Choking prevention strategies
Practising skills in responding to an Infant and Child in multiple choking scenarios 
Understanding what causes changes in your child's breathing
Identifying mild, moderate and severe respiratory distress
Responding to and escalating respiratory distress
Implementing strategies to help you and your caregivers recognise and respond.
Bacterial and Viral illnesses 
Signs and symptoms 
Fever 
Managing illness
Common medications 
Administering medication
Monitoring your child while they are unwell
Febrile convulsions 
Practising skills in responding to and monitoring an unwell child
Common injuries children experience
Causes of injury and when to call 000
Minor and major wound/bleeding management
Broken bones 
Mild, moderate and severe Head injury 
Burns
Practising skills in responding to various wounds 
Practising skills in identifying the severity of head injuries 
Allergies and Australian children
Top 10 high-risk foods and how to introduce
Understanding the difference between allergy and anaphylaxis
Identifying an allergic and anaphylactic reaction 
Responding to allergies and how to escalate with Healthcare providers
Treatment of Anaphylaxis 
Poisoning in children 
Prevention strategies to keep your children safe around harmful substances
Identifying and responding to the poisoning incident
Identifying and responding to Insect and Spider Bites 
Identifying and responding to Aquatic animal bites and stings 
Identifying and responding to Venomous bites and stings 
Ask as many questions as you like, and our expert educator will take the time to ensure you leave with the knowledge you need to save a little life.
tiny human club resource book
All course participants will receive our 81-page First Aid Handbook. This book covers essential first aid topics and will support your learning experience during and after the session.
Leave with the reassurance that the education you need to save a little life is coming home with you.
Melbourne Public Course
AFTERPAY AVAILABLE AT CHECKOUT (PAY IN 4)
Our baby and child first aid courses are perfect for new and expecting parents. Our course will empower you with life-saving first aid skills and knowledge - so you can help your little one with confidence.
Location
Hotel Chadstone - 1341 Dandenong Rd, Chadstone VIC 3148
Course Time
Morning Course: 9am-1pm

Afternoon Course: 2pm-6pm

Melbourne courses are biweekly to monthly.
Your course will be facilitated by one of Tiny Hearts' expert educators.
Our baby and child first aid course covers everything you need to know to protect your little one in a first aid emergency. Our course is the most comprehensive in the industry, and covers:

First Aid Foundations 
Choking 
Respiratory Distress 
Managing Illness
Managing Injury 
Allergies & Anaphylaxis
Envenomation 
Q+A
What is provided in the session?

Tea, Coffee and Snacks

We will be providing tea, coffee, water and a snack during the break in your session! Please feel free to bring along any other food or drinks you would like to the session. 

Baby + Child First Aid Handbook

81 page first aid handbook for you to take notes during the course and keep at home for quick reference as needed. Designed to refresh your memory whenever you need it, through every stage of the parenthood journey.
How many people will be in my course?

When attending our public courses, you will be joined by a group of expecting / new parents. Please see below for our capacity for each location, so you know how many people you will be learning alongside.

Melbourne - 62 people

Geelong - 48 people

Sydney - 62 people

Canberra - 48 people

Brisbane - 60 people

Sunshine Coast - 48 people

Gold Coast - 48 people

Townsville - 30 people

Adelaide - 32 people

Hobart - 32 people

Launceston - 32 people

Perth - 48 people
Note about babies at public courses

Due to venue restrictions, babies and children are unable to attend these courses. As we navigate a new COVID-normal world, we need to ensure that we adhere to strict social distancing policies.

Also, babies deserve a lot of love and attention and this will ensure that you and every other participant is able to soak up as much life-saving education as possible.

If you are unable to organise care for your little one, we recommend checking out our in-home course options.
PUBLIC COURSE FAQs
Find the most frequently asked questions below.
It is totally up to you, but we definitely recommend coming before you have bub. This way, you can step into life's next big adventure feeling 100% confident.
The Tiny Hearts course has been designed to cover topics most relevant for children aged 0-8. In saying that, many topics such as CPR are applicable to all ages.
There will be a 10-minute break in the middle of the course. You are more than welcome to excuse yourself at any time to go to the bathroom, grab a coffee or have a snack.
Some of our venues have dedicated breastfeeding space, if you would like more information on your specific venue please email hello@tinyhearts.co
While we are a Registered Training Organisation, the Tiny Hearts First Aid course is a non-accredited course. However, all participants will receive a certificate of participation.
Requests for a course transfer must be made to our team before your anticipated course date. We understand that the unexpected can happen, and we will do our best to find an alternative course date for you to attend.
Excellent First Aid course
My husband and I (32 weeks at the time) attended the baby and child first aid course in person and absolutely loved it. It was my first time attending a first aid course of any nature, let alone an infant and child specific course, and at no point did I feel overwhelmed or confused by the information provided. The information was delivered clearly, detailed yet not overwhelming, confidently and at the perfect pace.
The hands on practice really helped too. Being in a room with about 50 other people I thought we would be overlooked and not receive feedback during the hands on exercises, but Rach lead the class so well that she was able to give individual feedback, which gave us confidence.
1 week on, I still feel confident in the knowledge that I've learnt, backed up with the physical first aid book that we received on the day with further information.
Thank you so much, Tiny Hearts!
First aid an cpr course
Loved the course, Rachael was awesome! I feel much more confident starting my little one on solids now 💜
Baby and Toddler half day first aid & CPR course
As a first time grandmother I attended this course with my daughter who has a six month old. Even though I had previously attended several first aid training sessions I found this one to be the easiest to follow with exceptionally well planned and professionally presented material that was especially relevant to young parents and caregivers. I found the CPR instructions particularly easy to comprehend and for the first time I now actually feel confident should I need to use it. I would highly recommend this course and think it would be such a valuable gift for new parents.
First aid course - Recommended for every parent!
My husband and I thought this was such a great informative course, gave us a lot more confidence approaching our first childs arrival on how to manage sickness and emergencies. I think every parent should do this course! Covers so much content but in a concise engaging way. Presentation & host was great, CPR training and goodie bag was awesome!
Thank you Tiny Hearts
Loved the course ran by Rach on Saturday - extremely informative but also just focused on the things that we as new (and impending) parents need to know. Rach is a very engaging and entertaining speaker and perfectly balanced the serious side with some personal anecdotes. Would highly recommend for any new parents or caregivers. I feel so much more confident going into parenthood with this toolkit of information from the Tiny Hearts team :)