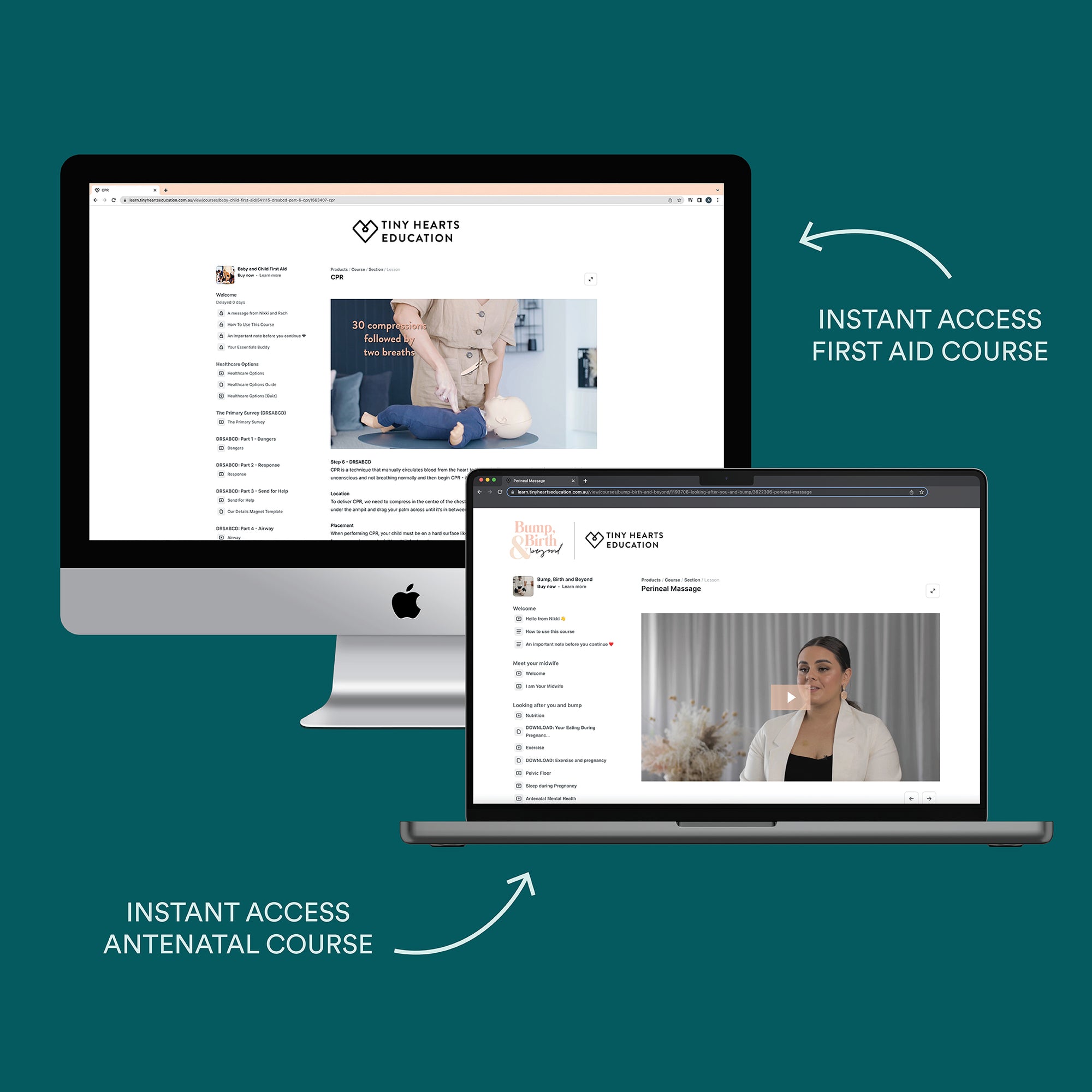 Complete Course Bundle
This is the ultimate bundle for expecting parents, providing empowering education to ensure you can tackle parenthood without fear. You'll learn everything from pregnancy + birth to all the essential first aid skills you need to feel prepared to save a little life!
Learn from the comfort of your own home
100% online, self-paced learning
Lifetime access
Video modules + downloadables created by industry experts
Prepare yourself for everything parenthood can throw at you!
Bump, Birth & Beyond Antenatal Course
This course is written and delivered by pregnancy, birth and early parenthood experts, including:

Yasmine, Midwife
Dr Joseph Sgroi, Obstetrician
Jade, Midwife

Instant Access Baby + Child First Aid Course

This course is delivered by co-founder of Tiny Hearts and Mumma to three boys, Rach Waia.
What's included in the Complete Course Bundle?

Baby + Child First Aid Instant Access Course
Our Baby + Child First aid course includes 38 videos and 15 bonus downloads. This course covers topics like CPR, choking, allergies, fevers and so much more and will educate and empower you with the skills you'll need to save a little life. 

Bump, Birth & Beyond: Antenatal Course
The Bump, Birth & Beyond course will educate you and your support person on what to expect during pregnancy, birth, and the first trimester with your new little love with over 100 informative videos and loads of downloads!
What topics are included?

Bump, Birth & Beyond Antenatal Course

There are over 30 core topics included in the course with several videos on each. For a full list of the topics pleaseclick here.

Instant Access Baby + Child First Aid Course

Our topics for our baby + child first aid instant access course include:
• Infant and child CPR
• Choking
• Recovery Position
• Whooping cough
• Allergies and anaphylaxis
• Asthma
• Croup
• Burns
• Fever
• Febrile convulsions
• Head injury
• Bleeding
• Bites and stings
• Fractures
• Dislocations
• Drowning
• Poisoning
How long will I have access for?

Once purchased, you will be able to access the course straight away. We provide you with lifetime access to use with any future little ones!
It may take a few minutes for your access to come through after your purchase. If it is not in your inbox after several minutes, please get in touch by emailing hello@tinyhearts.co
Pairs well with